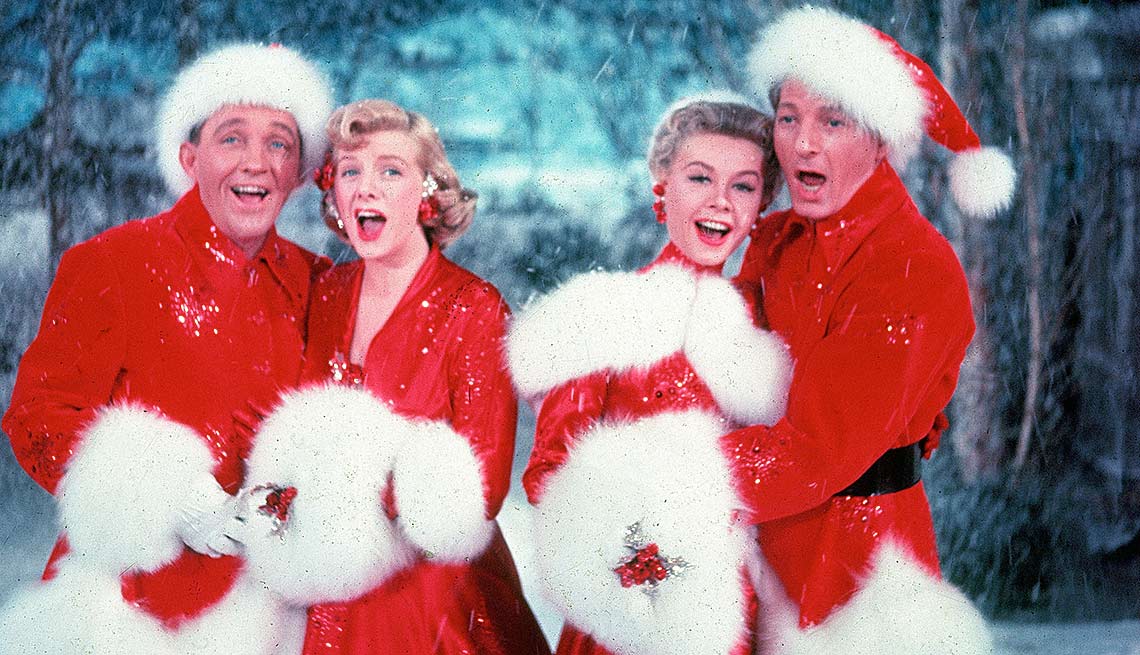 White Christmas is a classic holiday vehicle from 1954 starring Bing Crosby, Danny Kaye, Rosemary Clooney and Vera Ellen. A lighthearted, romantic holiday film finds former Army buddies Wallace (Crosby) and Davis (Kaye) teaming up as a singing duo. They follow a pair of beautiful sisters, who also have a song and dance act, to a lodge in Vermont. When Wallace and Davis arrive, they find their lodge owner is their former commander, General Waverly, and that the lodge is struggling financially. Through a series of romantic mix-ups between the crooners, and the classic formula of putting on a show to help save a family business, this film is a staple of Americana holiday tradition.
Barbara Stanwyck was one-in-a-million when it came to Hollywood legends. Incredibly versatile, her career spanned over 60 years. She fluidly moved from roles of a murderess in hard-boiled 40's film noir, as a salty landowner in a wild western, or as a beauty in a Ziegfield Follies. She delivered some of the most memorable lines in film history and worked with legendary directors such as Billy Wilder, Cecil B. DeMille, Fritz Lang, and Frank Capra. She made over 70 films before turning her attention to television in the last 1950's. Her television career garnered her numerous Emmy nominations and wins. Born Ruby Catherine Stevens on July 16, 1907, she won a Golden Globe for supporting actress role in the television mini-series The Thorn Birds at the age of 77 years old. Overall her filmography included over 85 films, her own show in the early 60s, The Big Valley, a Western classic, and numerous appearances throughout the 70s & 80s.  Six short years later, Stanwyck succumbed  January 20, 1990.
Born in Brooklyn, Ruby and her brothers and sisters were orphaned at an early age. One of five children, she and her brother Byron were were raised by an older sister, Mildred, who was 19 years Ruby's senior.  Mildred introduced Ruby to show business, when she got a job as a showgirl. Ruby was placed in multiple foster homes after that, from which she kept running away. During the summer's, she would tour with Mildred and practice her routines with her. Young Ruby idolized actress Pearl White (The Perils of Pauline) who inspired her to follow the path of acting. Although Mildred tried to dissuade her from showbiz, Ruby dropped out of school at the age of 14 and took up various odd jobs to make herself financially independent. A few months after her 16th birthday, she auditioned and was offered a spot as a dancer in the 1922 – 1923 seasons of the Ziegfeld Follies. It was the beginning of what would be a successful career on Broadway. Changing her name to Barbara Stanwyck, within five short years, she was a lauded star, and landed her first leading role for Burlesque by Arthur Hopkins. He described his search for the character and how he found Stanwyck to possess a "rough poignancy." Around this time she also was given a test for the silent film Broadway Nights. While she didn't get a major role in that film, her star was shining bright. She moved to Hollywood in 1928 and had to minor sound films before she was cast by Frank Capra in the 1930 film Ladies of Leisure. After that, prominent film roles rolled in and she was featured in many roles opposite Hollywood greats Clark Gable, Joel Mcrea, Henry Fonda and Gary Cooper.
Today's song clip is from the 1943 movie Lady of Burlesque. The film was a dark comedy that was based off a novel written by striptease artist Gypsy Rose Lee called The G-String Murders. The film was a backstage murder/mystery in which Lee wrote herself into one of the characters, Dixie Daisy, who was portrayed by Stanwyck. The story focuses around two stripper from a New York burlesque who were murdered and, subsequently, the discovery of the killer. As faithfully recreated for the screen as possible due to censorship rules at the time, the film grossed $1.85 million, or roughly $2.5 billion today. It's impossible to watch this clip and not be dazzled by her charm. You can even watch Lady of Burlesque in its entirety on Youtube.
Visit Wikipedia more a more extensive Barbara Stanwyck biography.
vi
In 1934, Fred Astaire and Ginger Rogers appeared in their second film together, The Gay Divorcee. The dynamic dance team shared a cameo in the 1933 Delores Del Rio film Flying Down to Rio, and became wildly popular. The Gay Divorcee is the first of the their ten film pairings as headliners. The film is charming, filled with wonderful song and dance numbers throughout. Originally made for the stage, this Cole Porter vehicle, featured a delicate subject matter, divorce, in the eyes of the newly enforced Hayes Code. Originally named "Gay Divorce," the Hays Office insisted on changing the name for the film version to "The Gay Divorcee." They believed that while a divorcee could be gay or lighthearted, it would be unseemly to allow a divorce to appear so.(1) That year, The Gay Divorcee was nominated for Best Film by the Academy of Motion Picture Arts and Sciences (AMPAS).
Astaire and Rogers weren't the only shining stars in this film. There is a song and dance cameo featuring our beloved Betty Grable that steals the show.  Coaxing a nerdy bumbling lawyer, Edward Everette Horton, to the dance floor to "k-nock knees," this early film highlights Grable's shimmer, bubbly charm, wicked dance skills, and singing style that would propel her to box-office fame during WWII. She was eighteen years old when this film was released.
So, with that, I give you, "Let's K-nock K-nees," sung and danced by Betty Grable, Edward Everett Horton and the RKO dance chorus.
Ben Benjamin (Runnels) came into my life exactly as how you would expect a meteor or a bolt of lightning to appear. Fast, intense and with effects that will reverberate for a very long time afterwards. Considering I have only known him less than a year, he became a close friend, a collaborator, and a confidante in a very short amount of time, and long distance. His first email to me at Strawberry Tongue was in January of 2016. I was in the throes of utter chaos. My longtime radio stream provider had given everyone on their service 30 days to close up shop or find a new host. So, I was in the process of moving everything while wondering why I never retained backups of anything, trying to maintain some composure and, most obviously, questioning my sanity.
"Hello, Dawn Marie.

We're really digging your station this morning in Oakland, as we work on our website – you've created a great mix!

We'd like to introduce you to Introflirt. We know our music would play well with the other artists you feature. Fusing post-punk, Italo disco, and 80s new wave with dreamy, jazzy vocals, Introflirt combines the most enticing aspects of electronic music to create a world all our own.

But who cares about words – have a listen for yourself! You can preview our album at https://introflirt.bandcamp.com/album/introflirt, and if you'd like to give us a spin, you can find downloadable tracks, bio information, and all our links here….

Thank you for your time! We'd love to hear from you. AND we're a little envious of your weather in Minn. – too much sun here in California!"
That last line about too much sun, he meant it. Sure, most of it was probably a canned email, but, charming nonetheless.
Taking a break from the cacophony of my life, I listened to their tracks and was immediately blown away. Tender and seething, sexy and sweet, their infectious blend of synthpop, crooner aesthetics, and darkpop immediately captivated me. Writing back to him right away, I enthusiastically thanked him for his note and told him I would be thrilled to add them to the station. He told me how their music, which he dubbed "Croon Wave," was inspired by his learning to sing American pop standards from the 40's and 50's. This began an intense volley of lengthy emails where we shared our love of neon signs, 40's and 50's jazz and pop standards, film noir, introversion as a way of life, coffee, Buckminister Fuller's geodesic structures, gardening, vintage clothing, growing up in northern climates that have four seasons – unlike California, and radio. By our fourth exchange I called him a "brother from another mother." We connected on a lot of levels. He was warm, kind, witty and had an inner connectedness to himself and the world that few possess. He had a vision of where he wanted to be in five years, even if he knew that path would be winding.
In less than one week from his initial email, we'd exchanged dozens. He offered to create some radio imagining for Strawberry Tongue, and more importantly, produce a radio show for my other streaming station, Bombshells Radio. Bombshells Radio has existed since 1998 and has always played classic jazz, pop standards, and showtunes from the 30's, 40's, and 50's. It's kitschy, delirious and delightful.
Ben's show, The Croon Wave, debuted on Bombshells Radio on March 3, 2016. His style was pure perfection and class. He made my somewhat kitschy station remarkably sexy and professional. Again, I was blown away, not only by his passion for music, his recording production, his detail for perfection, but, also by his genuineness. He inspired me to work even harder, and to strive for more. Honestly, I couldn't have asked for a better partner for my station. He was a total pro and he inspired me to be greater.
About a month into his show, I had to drop a major bombshell (no pun intended) to, well, pretty much everyone. I have cancer. I've had it for over nine years now, but, I had never really spoke about it publicly. Close friends and my family knew, but, I just didn't want it to be the thing that defined me, so I never told anyone publicly. Except now, I was needing to go to Switzerland for treatment because I had exhausted all treatments here in the U.S. Ben sent me a note the night I "came out" on Facebook. His first questions were, "How are you? Are you okay?" He truly cared. Ben didn't have the capacity to not care. He was intrinsically a compassionate, loving soul. With all my upcoming travel, he totally took over control of programming my station for me when I would be absent. I couldn't have asked for someone, that I had never even met in person, to be so thoughtful. We'd established a trust that few can find. Even though I was "technically press" he gave me the advance copy of their album Temporary Heaven to listen to while I was having treatment in Europe. I relished it while isolated in my hospital room.
During the end of summer, his laptop started acting funky, so he decided to take a break from The Croon Wave production. He had completed 18 great episodes and he would re-start them when he got enough funds to buy a new laptop. I was in the middle of my treatments and was so grateful for everything that he had already done for me. His new album was coming out and there was going to be a lot of promotion coming up anyhow, so, it made sense to take a break.
When the album came out, I was ready to support them. I purchased a cassette, t-shirt and pins through their Bandcamp site with the note, "god damn, I love merch!" Delightfully, he quoted my sage words of wisdom on Twitter and Facebook. But, what I found extra special was the time he took to hand-write me a note to include in the package, written on what I suspect was a thrift store find.
Although our emails tapered off during my treatment and Introflirt's promotions, we never lost touch. We still sent each other the lengthy emails talking about our health, yoga, coffee, self-awareness, meditation, love, dating, our broken hearts, our kindred introversion, kombucha scobies, piano bars, the never-ending radio turmoil managing two stations, starting his publishing company, him possibly moving to L.A., and my strange side effects from systemic radiation that caused my hands and feet to feel like they were on fire. Our very last chat lasted over the entire afternoon of November 30th. As I told him about my fears of the past election,  and what my future goals might look like post-treatment, including possibilities of moving to warmer climates, our last conversations ended like this:
Ben: "I wish you cold feet and warm coffee."
DM: "I love you and miss you buddy."
Ben: "Love and miss you, too."
Never, ever, miss an opportunity to tell someone you love them. You never know when it might be your last.
Ben perished in the fire that overtook the Ghost Ship warehouse fire on December 2, 2016. His bandmate Nicole "Denalda" Ranae was also in attendance. At this writing, she has not been identified.  Their music, a permanent fixture on Strawberry Tongue, is a constant reminder that life is a precarious thing and that you should never waste a single moment.
Ben would always conclude The Croon Wave with the song "Misty" sung by Erroll Gardner. It only seems appropriate that I end this piece with Ben singing the same. Ben, you will never be forgotten. Until we meet again – this time, face to face.
If you have logged into TuneIn this week and wondered where Bombshells Radio went to, the short story is, we are still here.
On April 29, 2016, the Internet radio network TuneIn removed thousands of stations that are hosted by Belgium-based, Radionomy. In the few stations that received email notification TuneIn's response was:
Out of an abundance of caution and pursuant to the TuneIn End User License Agreement and Terms of Service, TuneIn has decided to unilaterally remove or disable access to all stations that appear to TuneIn to be hosted by Radionomy.
The reason for this removal is due to the ongoing lawsuit filed by Sony against Radionomy in March 2016, in US District Court in San Francisco for alleged non-payment of music royalties. For the last couple of weeks, TuneIn had been sending take down notices on behalf of Sony to individual radio stations along Radionomy's network. Sony's strong armed tactics on TuneIn was enough for them to act on today's actions. This takedown affected all stations on the Radionomy platform, regardless if they play artists on the Sony label or not.
Listeners can still access Bombshells Radio on TuneIn or on any other player, by manually adding the following URL http://listen.radionomy.com/bombshells.m3u
On PC, Mac or mobile devices, we recommend using Radionomy, Radio.net or Simple Radio by Streema websites or by searching for their free apps in the Google Play, iTunes or Blackberry World app stores.
On Sonos go to "Add music services", add Radionomy and search for Bombshells.
We are terribly sorry for the inconvenience and we hope this matter gets resolved soon. In the meantime, know that we are still here and always playing the most playful, quirky and fun playlist featuring singing actresses, vocalists, big band, swing and classic jazz from the 30's, 40's, 50's & 60's.